For me the beginning days of a New Year bring on spurts of cleaning out, letting go, reflecting and musing on the past. I have a long-time habit of making lists, sorting out, neat-en-ing-up, and day-dreaming as I prepare for an early year week-end workshop with storyteller Donald Davis.  Donald is a brilliant guide  to work with as you tip-toe into a new story.
Often I open long-closed boxes because there is no telling what you will find – – especially when there might be photos among the papers. Sometimes it takes more time than the initial finding for the possibilities to emerge. It reminds me of gathering scraps when I am thinking of a working on collage. In this instance its collecting  a bit of this and a bit of that until you can feel and form a story.
For instance: last year I found a few black and white photos of cars in the snow on North Broadway, Baltimore, MD circa probably January 1954.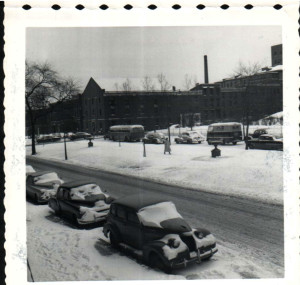 My husband Jim took the photos from the roof of his fraternity house which was across the street from Johns Hopkins Hospital. It was a few doors down from Hampton House, the Nurses Home where the student nurses lived.
Jim came to Baltimore in 1953 from Madera, CA which is located in the heart of the fertile and sunny San Joaquin Valley and in sight of the majestic snow-capped Sierra-Nevada Mountains. Snow was not  unfamiliar to him – when he went to the mountains – but not piled up on city streets.
As I looked at this picture I realized it was taken before I arrived in Baltimore in September 1954.  It is a moment before we met – – before our first date – – before our  courtship and wedding –  that led to the 57 years of our life together.  Before death "did us part".
We don't exist together in this moment.
Jim was 22 years old and a first year Medical Student at Johns Hopkins. I was 17 years old and a Senior in High School in Charlotte, NC with no "fixed ideas" of where I would be after Graduation.
We were poised on the edge of a story that was not known or even imagined.
Maybe this is the moment for taking  a "long-view."