Ellouise Schoettler
Storyteller * Producer * Workshop Leader
*Television Host & Performer * Blogger

Ellouise Schoettler believes that your story is your "true legacy"  –  are you telling your story?
"It's important to be remembered and there's no better way to do that than through storytelling."
Ellouise also warns;
"If you wait for others to tell your story, they might get it wrong!"
Thirty years ago, Ellouise turned to Genealogy to learn about her ancestors but quickly bored of begats and begats. Where were the stories?
That question launched a career. 
Today Ellouise is a nationally known storyteller, Maryland local cable show host and producer of a storytelling series. Her "Flesh on Old Bones" workshop helps participants turn personal history into compelling stories others want to hear. www.ellouiseschoettler.com

" Ellouise Schoettler's work reminds us what is best about being human: deep emotion, strong values unfailing courage and gratitude.  An Uncommon Artist."  Elizabeth Ellis, National Storyteller.
Pushing Boundaries * Finding Gus
Arlington National Cemetery: My Forever Home
Chevy Chase, MD resident Ellouise Schoettler is a North Carolina native and 24 year professional storytelling veteran.  She calls herself an "old-time Southern teller," just like the family storytellers she grew up listening to on the front porch and around the dinner table.
Ellouise blends personal experience, memories and history into programs which give voice to ordinary people. She tells her original story-programs coast to coast for adult, family and youth audiences at various venues including festivals, colleges, libraries and genealogical societies.
ELLOUISE on TELEVISION:
Since 2008 Ello
uise has hosted two weekly
cable storytelling shows on Channel 16 (MMCTV.org) Montgomery County, MD.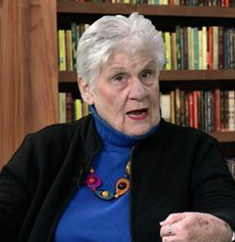 Stories in Time:
Ellouise tells a new story.
Monday:  9:15 PM
Tuesday:  6:15 PM 
Stories in Time – In Focus
Ellouise talks with a guest about storytelling. When it is a teller they perform a story.
 Tuesday:       10 PM
Wednesday:    7 PM
Programs are available on the MMCTV.org website under VIDEOS. Also archived.
Ellouise also posts them on her blog: ellouisestory.blogspot.com