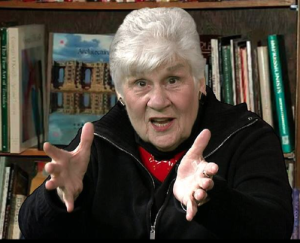 2017
WEEKLY TELEVISION PROGRAM: Programs can be seen as noted on Channel 16, or in Videos on the website – www.mmctv.org
Stories in Time:  Monday  9:15 PM  and  Tuesday 6:15 PM  Schoettler tells a story.
STORIES in FOCUS : Interview – Schoettler & guest                                       Wednesday   7 pm  
Ready to Serve Public Performances
2017
March 27   Ready to Serve
Oconee County Library
1080 Experiment Sta. Road
Watkinsville, GA
"I had heard so much about Ellouise's great storytelling and she didn't disappoint."
Kelly Hoomes, Adult Services Coordinator, Oconee Cty.Library
April 24     Ready to Serve
Stories in the Round
Hagerstown, MD
"This was maybe the fourth or fifth time I've heard Ready to Serve and I would travel miles and miles to hear it again, any place any time – whether whole or selections. You have an epic story there – excellently researched, exquisitely crafted and produced – that must be shared, widely and repeatedly till the world hears about these 64 dedicated, generous, courageous women and their iconic WW I service."
Fanny Crawford,
Storyteller and Producer, Stories in the Round
May 19     Ready to Serve –
BPW Annual Meeting
Linthicum, MD
May 20     Ready to Serve
Celebrating America Week-end
Westminster, MD
"Ready to Serve" was the highlight of our American Heritage weekend in Westminster. The story of Hopkins nurses in WWI is a grand story and you tell it so well! On behalf of nurses everywhere, thank you!" Elizabeth Fuss
May 27     Ready to Serve
Stars and Stripes Festival
Chesapeake Beach, MD
June 9     Ready to Serve
Our Town Theater
Oakland, MD 21550
From an audience member: "You became her."
"Ellouise treated us to an outstanding performance!   Thank you!"  Bonnie Winters.
June 14     Ready to Serve
Chevy Chase Library
Chevy Chase, MD
"You really gave a voice to the Hopkins women. It was a very surreal experience being able to sit in our program room and feel like I was having a chat with a World War I nurse. All of us were transported to a different place in time thanks to your beautiful storytelling." Rachel Rappaport, Librarian
June 17     Ready to Serve
WWI Symposium
Western Front Assoc.- East Coast Branch
WWI War Memorial Building
Baltimore, MD
July Capitol Fringe    Ready to Serve
7 Performances
Gallaudet Univ. –
Eastman Studio Theater
Washington, DC
for tickets and information
​
July 29     Ready to Serve
2 PM
PD Brown Public Library
50 Village Street
Waldorf, MD 20602
​August 13     Arlington National Cemetery: My Forever Home
BSTD Stories Series –
Fairfax, Virginia
October       Ready to Serve