THE HELLO GIRLS   October 21, 2015,  6:30 PM 
Anderson County Public Library      Anderson, SC
******************************************************************************************
Read about The Hello Girls at  National World War One Museum and Memorial http://ellouisestory.blogspot.com/2015/10/hello-olive-shaw.html

ABOUT THE SHOW:
Secret signals, black sateen bloomers and stories from the American Women General Pershing called "switchboard soldiers."  The World War One Armerican Doughboys dubbed these telephone operators the Hello Girls.
History ignored them – that's why we don't know their story.
Schoettler has created three monologues from their words to give these women a chance to tell their story of being OVER THERE during World War One.
_______________________________________________________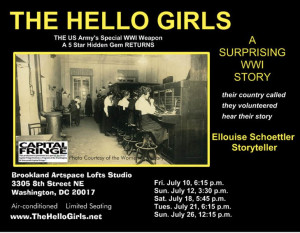 What people have said about The Hello Girls lately:
" In her striking depiction of the Hello Girls, who worked alongside the Doughboys of World War I, Ellouise Schoettler provides a memorable portrayal of a too long forgotten group of American women."   J. Lee Annis, Jr. Chairman, Department of History and Political Science, Montomery College-Rockville, Rockville, MD
" Your re-creation of these women's stories brought history to life …." Genevieve Carminati, Women Studies College-wide Coordinator, Montgomery College, Rockville, MD
" Thanks to Ellouise's fine storytelling, The Hello Girls will not soon be forgotten." Megan Hicks, Storyteller and Producer, Rose Valley Storytelling Series, Media, PA
___________________________________________________________________________
2014 CAPITAL FRINGE REVIEWS:
FIVE STARS:  U.S. History provided little to inform us about the role of women in "The Great War" – –     July 11, 2014   DCMetroTheatreArts
"Schoettler's "who knew?" look at women in the Great War does what she no doubt intends. It makes you want to learn more." July 14, 2014   Washington Post 
"The Hello Girls is a story of women called to war ." July 11, 2014   DC Theatre Scene
After the WAR ended they returned home from France to discover they faced another battle on the "home front" when the US Army denied them their Honororable Discharges and Veterans Rights.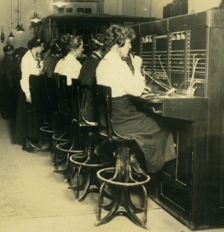 Signal Corps Women telephone operators on duty in Tours, France, 1918. (photo courtesy of Women in Military Service for America Foundation)
_______________________________________________________________________________
ABOUT ELLOUISE SCHOETTLER
A 79 year old seasoned professional storyteller and spoken word performer, Ellouise Schoettler performs nationwide. She is known for her warm-hearted and humorous take on personal stories and stories of women's experiences.  For several years she has also had a particular focus on stories of  the military experience.
Since 2010 she has created and performed original one-woman shows for the Capital Fringe. These include Pushing Boundaries, a tale at her morphing from a 1960s housewife to a 1970s activist for Equal Rights for women, Finding Gus, a family story of discovering her grand-father who was an early 1900s SC farmyard find by Coach John Heisman, and Arlington National Cemetery: My Forever Home. Ellouise's husband, an Air Force Officer and their young daughter are buried at Arlington. For this every growing/changing program she gathers stories about those who will be her neighbors when she is buried there. She takes a touching and hopeful Thorton Wilder look at these hallowed grounds.  The Arlington story led to an interest in military stories which led to The Hello Girls.
A Blog Post introducing The Hello Girls: HERE 
——————————————————————————————————————————
BITS OF INFORMATION:
When the Hello Girls were stationed near the battlefields in France to manage the calls through the portable switchboards they were issued steel helmets and gas masks. They often hung the over the backs of their high stools to have them close at hand if they needed them.
———————————————————————————————————————————