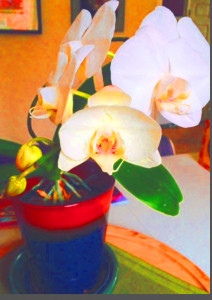 My beautiful orchid is fully open. Looking at it makes me happy. The blooms seem fuller and more vibrant than when they bloomed for Jim's funeral Mass. The blooms began to open before Thanksgiving and now at New Years they are full and radiant.Maybe they needed the two year nap they have just wake-ed-up from.
I am a person who looks for signs and serendipities to give me hints and directions. This orchid shouts and sings its message of Jim to me. And its song is opening me up to accept new life just as the flower has accepted its reviving.
Maybe that is the reason I am not writing lists or making plans for 2015 today. I have some ideas of what I hope will happen in the New Year but I am not going to close any doors by making plans. I want to open my arms and my heart and hope I have sense enough to recognize the signs and songs the universe will sing for me.
Before he died Jim said, "I wonder where you will be a year from now." That was almost three years ago. I responded, "I will be right here – loving you." and I am… with no time limit.
But – – finally I do feel my spirits lifting. There is more light around me and I deeply appreciate the love Jim and I shared  instead of being engulfed in a suffocating fog.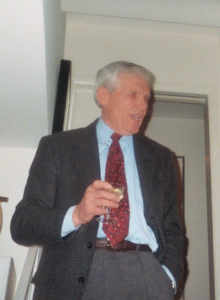 Jim offered a sweet and loving toast to me and our years together for our 50th anniversary. I send one back to him – with love and gratitude.
Wishing everyone a very Happy New Year – filled with blessings  – and hoping that you too will recognize the messages coming to you.