Last night I worked out the list and plan for my work today. Good. Good. Went to sleep feeling on top of things. I was on track. Ask any solopreneur – that's the goal.


But instead –
I woke to a snow white world this morning although I went to sleep thinking the snow was going to fall in PA not around us. One of nature's changes of mind and surprises.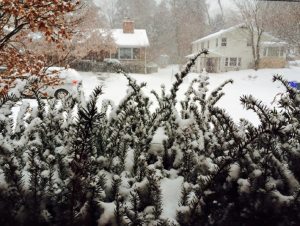 Listening to the weather alerts  Karen went to the PA house last night to make sure all was well up there. Neither of us expected that I would wake up on my own to handle the snow pile up. I am challenged when it comes to shoveling. Thank heavens there are two strapping boys living next door who wield a fine shovel.
Last night it occurred to me that I should move my car from the street in front of the house to the driveway. Even though I knew that's what Jim would have done I shrugged off the  warning thought and went to bed.
So this morning after the boys cleared the walkway and the driveway I decided to make that car-move even though the streets were not completely cleared. The snow was lightweight and dry. Surely I could manage this. For years I had watched Jim manage these moves. I felt confident. And it was going well until I started slipping down the steep street entrance to my driveway and ended up turned across the middle of the street.
This was not what I intended!
Fortunately Chris, my very capable neighbor was home. He did not make it into the driveway either but he drifted the car down the street further and parked it out of the way. "I will move it for you after the snow plow comes through."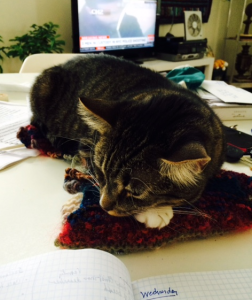 Fine. I am not planning on going anywhere. Cat, dog and I are sitting tight.
And  – I am listening to the news and wondering about the real possibility of losing power – so rather than just thinking about it – or leaving it to chance – I am getting out the lanterns and replacing batteries.