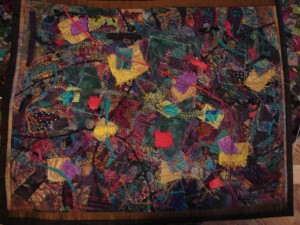 The first time I wrote a personal story I was in the 7th grade when the teacher gave a class assignment to write about our family.
I wrote about my Daddy – a crazy, funny story about some of his eccentric antics. I read it to the class and when my classmates laughed uproariously I was hooked.
I have explored telling my story in many forms.
Collage is one – but before that – I worked on albums.
In the 1970s one of the new modes of expression for women artists was autobiograpy in an effort to validate the lifes of ordinary women. Artist Miriam Schapiro used handmade articles made by anonymous women in her art work and many other women artists included photographs, bits of biography and momentos. Once when Miriam was visiting DC, she and I made a field trip to Thieves Market, a huge flea market under a tin roof which was a bit south of Alexandria on Hwy 1. That afternoon Mimi introduced me to the beauty and charm of old scrap books as examples of anonymous women's art work and I have been collecting them ever since. As well as making many of my own.
My first auto-biographical album was exhibited at the Washington Women's Art Center in 1975. I used old and new family photographs to tell a story which connected similar images of the past and the present. Something I still do in my storytelling – and in writing this blog. Connecting the threads of the story, past and present, as a way of weaving my life together.
In 1994 when my father died, I made a biographical album for his life and housed it in an old leather salesman's catalog notebook that he had used for years and given to me. My thought was – his life story within a bit of his life. The Album was exhibited at Gallery 10, Washington, DC in 1996 in Life After Life, an exhibition organized by artist Claudia Vess.
In 2003 Lucy Blankstein and I created videos from family photographs to tell a story from each of our families for Embedded Memories:Digital Recall, our two-person exhibition at Gallery 10, Washington, DC and at the DC Art-o-Matic. In Family Album,a video I made for that exhibition,  I combine words and music with the photographs to remember my grandmother and my great-mother by using my mother's words to tell a bit of their stories.
I hope you will leave a comment and share ways you are using to capture and preserve your family stories and — most importantly TELL them.