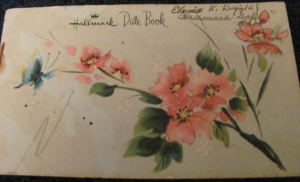 First performance JUNE 4 –
Information on June 4 Performance – Place and Time  HERE
Several years ago I found this little calendar which was filled with memories. My new story, "Love Notes" began there.
From the press release:
" Love Notes"
Happily Ever After is a matter of perspective.
A 1954 blind date between an 18-year-old nursing student and a fresh faced Johns Hopkins medical student launched Ellouise and Jim on a lifetime together. Love Notes, a one–widow show performed by Ellouise Schoettler, is a funny and touching journey of a 57-year marriage traversing through the peaks and valleys of the marriage vow. 
Death? 
It's not a clean break."