Merry Christmas – December 25,2014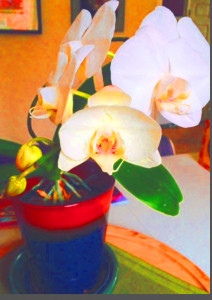 This orchid, left from my husband's Memorial Mass  2 years and 10 months ago, began to bloom again three weeks before Thanksgiving.  By Christmas Day all seven blooms were fully open.  Watching the pregnant buds slowly open and bloom has been a beacon of hope and encouragement during this holiday season.
It is also an important connection to Jim. So I decided to use Jim's Orchid which has been bursting with new life as a symbol of hope to go along with my Christmas Greetings.
Tonight is  Christmas Night. I am away from home. The quiet of this place gives me space to think about the past year and when I do I am extremely grateful for the blessings in my life: blessings of family and friends – including the Facebook Community, storytelling work that gives me satisfaction and joy, and stories to tell. The void left by Jim's absence is enormous and I doubt it will ever feel any less than it does now – but I am learning to adjust. Jim often said, "we will adjust", when situations changed  – – and we needed to "go with the flow."
My new lists for 2015 include changes and challenges for me in almost every nook and cranny of my life. We will see how things work out – – – for certain it includes some travel, new stories, completing some over-due projects and a lot of organizing.
Most important – I wish everyone who comes across this post – peace and happiness, along with courage and strength to see you through the hard times  – – –  and red shoes to dance through the great times ahead.